A little disclosure: there are affiliate links on this page! That just means if you click on a link, find something you like and buy it, we'll make a little bit of money. Don't worry, you won't pay any extra and it doesn't impact our opinions.
Our household is a family of four with two young children who like to snack constantly, so our carpets need vacuuming every day if we want to maintain some sort of grasp on cleanliness.
For the past two years, we have owned a cordless stick vacuum that lived next to the washing machine in our kitchen. Although very lightweight, debris would always get stuck in one of the many filters and end up falling out the bottom onto the newly vacuumed carpet. To add insult to injury, the brush bar would work only intermittently and it would overheat after about 5 minutes. To put it bluntly, I was sick of this vacuum cleaner and wanted something different, something simpler.
Now everybody knows about the Henry range of vacuum cleaners and in particular, their reputation for lasting a lifetime. So I decided it was time to put this to the test to see whether it could replace our over-complicated and under-performing cordless stick vacuum. With my name being James and my favourite colour being blue, it would seem like a no-brainer to go for the James Vacuum. However, my daughters favourite colour is pink so I thought, why not go for the Hetty vacuum instead? A few clicks and a couple of days later the Hetty arrived at my door, and below is my honest review of this machine, from the perspective of a British family of 4.
Is the Hetty the right fit for you?
Hetty is a vacuum cleaner without all of the bells and whistles of a Dyson. It offers excellent suction power with no brush bar or other fancy features. It's not particularly lightweight and the components/ attachments take some strength to stick together. If you are looking for the latest advancements in vacuum technology, this machine won't be for you.
However, if you are looking for a machine that performs well, feels tough, with components that will take a battering for years and keep on working, then read on.
A Quick Overview
Hetty is the feminine version of the famous Henry vacuum, and the only difference between the two is the colour. She produced 620 watts of power (which is double what my stick vacuum was providing) and sits on 4 wheels that allow you to drag her around your home as you go. She comes with a large number of attachments, which makes her very versatile for all of those nooks and crannies in the home and car. But more than this, Hetty is a bit of fun. She is a vacuum cleaner with a smiling face on the front (with eye lashes), and there is just something so strange and loveable about that. With this vacuum cleaner you get strong components to achieve one goal, which is to suck up dust and dirt into a bag, combined with a good dose of humour.
Free Delivery
Hetty HET160
Key Features:
Power: 620 watts
Capacity: 6 litres
Cleaning range: 26.1m
Weight: 7.5kgs
Cost: Around £160
Pros:
Perfect for All-Round Cleaning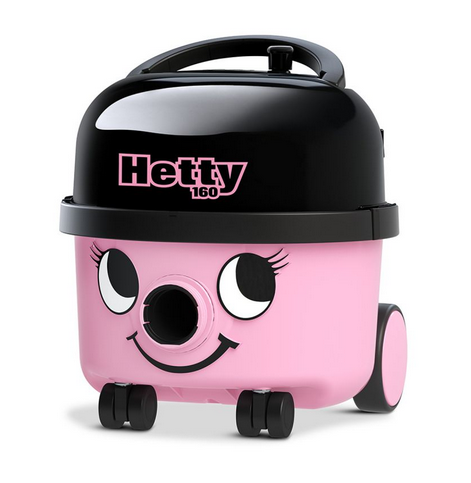 We earn a commission if you make a purchase, at no additional cost to you.
Free Delivery
Hetty Yellow
MyHenry.com are currently offering this special yellow edition Hetty for £30 off the regular price.
Buy Mine with Free Delivery
We earn a commission if you make a purchase, at no additional cost to you.
Unboxing and Assembling
My first impression was that Numatic managed to fit a lot into quite a small box. Furthermore, I was pleased to discover that Hetty is delivered pretty much ready to go, with only some basic assembly required. Indeed, the dust bag was already connected internally, so all I had to do was stick the extension tubes together and attach one end to the floor head and the other to the flexible hose. Lastly, I screwed the other end of the hose onto Hetty's nose and I was good to go.
I didn't even read the instruction manual! It was all so obvious and simple to figure out.
There is a switch on the top of the Hetty that turns her on, which is illuminated when she is plugged into the mains.
Cable Length
Hetty has an impressive 10-metre long cable, which for us in our 3-bedroom Victorian terraced house means that we can plug in once and vacuum the entire floor with ease. Indeed, I was able to plug Hetty into the hallway socket and reach up the stairs, across our landing, and into my study. The cable is rewound back into the machine manually using a handle on the top, but this didn't require much effort at all and was very fast and easy. This long cable means that you can reach your car sitting on your drive or on the road (unless you have a very long front garden).
Dust Capacity
One of the key features of the Hetty that makes it a simple, uncomplicated vacuum cleaner is that it uses a bag to store all of that horrible dust and dirt, instead of requiring the user to empty a dust compartment and to clean various filters. Instead, this machine simply sucks everything up very directly into a large 6-litre capacity bag (the size of a sofa cushion!).
When you purchase the Hetty, you will be given one bag already loaded into the machine, plus a spare in the box. This large capacity means you won't have to regularly change bags at all. In fact, we used this machine every day and only had to replace the bag after a month.
When the time does come to change it, it couldn't be simpler. All you have to do is push two clips on the side of the machine outwards and then lift off the head of the machine (which contains the motor), remove the filter, and then replace the bag with a fresh one. The old one should then be discarded in your wheelie bin.
HepaFlow
These bags used to be made from paper, but they are now made using a HepaFlow material, which ensures that they shouldn't split (even if you overfill them) and also means that less dust will escape the bags, back into your home. This means that the Hetty is perfect for those who suffer from asthma or are sensitive to allergens.
Attachments & What They Do
Combi Floor Tool
The main floor tool is the attachment that you will use for 90% of your vacuuming. It sticks on to the end of the extension tubes and will allow you to vacuum both your carpets and hard floors, thanks to the foot pedal that raises and lowers the brush bar. For carpets, you want the brush bar lowered (to agitate the hair and dirt), and for hard floors you want it raised.
When vacuuming carpets with the floor tool, with the brush bar lowered, it definitely does require a bit of strength to thrust forwards and backwards, but the results were very good. Below is an example of the results I got from just one stroke back towards me.
Combi Floor Tool Before & After (1 stroke)
I was expecting there to be more dust and debris removed from the very centre of the floor head, but surprisingly, the entire width of the floor head seemed to vacuum up the dirt evenly. Upon closer inspection, it appears that there is a clever channel designed into the head, which ensures that debris flows up through it from the entire surface area.
All in all, great results, and it only took a couple more passes to remove every spec of dirt!
One last thing to mention about the floor head is how good it is at reaching underneath furniture. I found that it was adequate at reaching perhaps 1/3 of the way under our double bed, but it did not reach the very centre, with the extension tubes attached. For this, I swapped out the combination floor tool for the upholstery brush, which is largely the same type of tool (just a lot smaller), and this was more than adequate to finish the job well.
Upholstery Brush
Speaking of the upholstery brush, this is the attachment that is best suited for cleaning chairs, sofas, car seats, and stairs. Basically, anything that has a pretty flat surface that is too small to use the main floor tool should be vacuumed using the upholstery brush. I found it really effective on the stairs, as the bristles are great at agitating the dust and dirt whilst also reaching the very corner of the steps.
Upholstery Brush Before and After
This tool was also really handy when it came to cleaning the boot of our car (more on that below), as well as the carpet underneath the bed that the floor tool couldn't reach (as previously mentioned).
Crevice Tool
This is definitely my favourite attachment for the Hetty because it the perfect tool for vacuuming the dirt and dust that accumulates in those really hard-to-reach spots, such as down the side of your sofa or armchair, the gap between the seats and the door in the car, and most importantly, the strip of carpet right next to the skirting boards where the regular floor head can't quite reach.
The crevice tool is attached to the hose using the univeral adapter (which comes in the box), and all it takes is a bit of a push to jam everything together. Once you turn the Hetty on with this tool attached, it is significantly louder than with just the regular floor head attached, so this is not an attachment to use when the kids are asleep next door. However, this increase in decibels is simply due to the fact that all of that power is now being funneled through a very slim attachment, which means that the suction power through this crevice tool is immense.
Note: without the crevice tool, the Hetty is not particularly loud (and certainly no louder than my stick vacuum). You can expect around 75 dB.
I tested it out predominantly on the skirting boards in our home, which had been neglected for quite a long time, I am ashamed to say. I was really impressed with it, and this tool is in fact something I use everyday because it is just so useful.
Crevice Tool Before and After
Soft Dusting Brush
I have to admit that it wasn't immediately obvious to me what use this brush had, as it seemed as though the existing attachments had pretty much covered all of my vacuuming jobs. However, when I read in the manual that it was for delicate items in the home, I set about wandering around looking for areas that require vacuuming, which could be damaged using one of the more heavy-duty attachments.
I quickly settled upon both the curtains and the two ceiling fans that we have in our master bedroom, as well as the kids room. The ceiling fans in particular are quite delicate and flimsy, so I had previously only used a damp cloth on them.
Once again, the dusting brush is simply pushed onto the end of the universal adapter, and then you can choose whether to use one, two, or all three of the extension tubes (or none at all) depending upon the reach that you need. This brush seems to be made up of lots of soft bristles that really agitate the dust down into the hose without having to use much force at all, which is great for these delicate items.
Soft Dusting Brush Before and After
Once again, on the curtains, it was really useful, and I feel like I particularly gave the top of them a really good clean with this attachment. I used two of the extension tubes to reach the very top.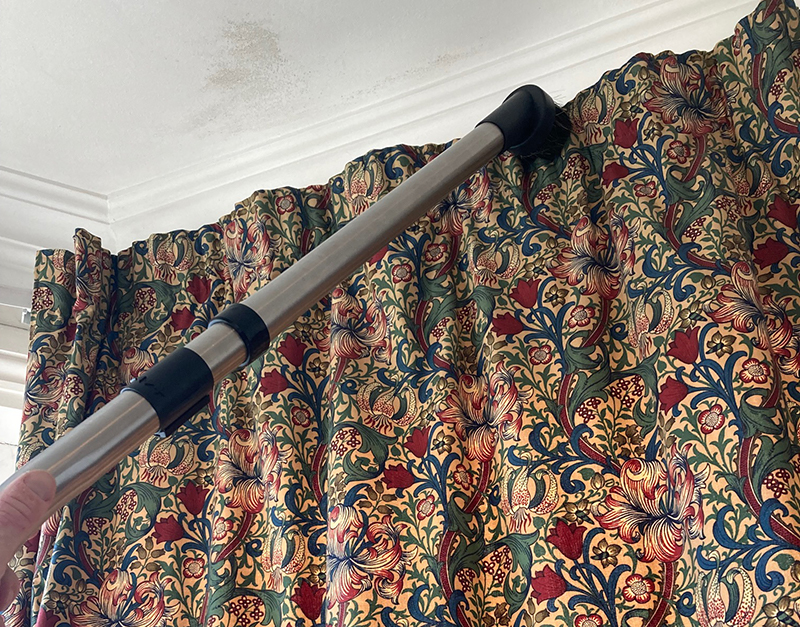 Stair Cleaning
When it comes to cleaning stairs, Hetty is perhaps not the best. Firstly, even though the hose is a decent length, I found that it was not long enough to leave the machine at either the bottom or top of the staircase. This meant that I had to physically carry the Hetty with me in one hand as I climbed the stairs, vacuuming as I went. Now, I did not find this to be much of an issue, but if you have mobility or strength issues, this definitely will be something that will cause you grief. I was able to rest the machine on one of the corner steps at the top of my staircase, but it was a bit precarious, balancing on the edge:
I used a combination of the crevice tool and upholstery tool on our carpeted stairs and was very pleased with the fast results.
Car Cleaning
The long 10m cable comes in handy when you want to give your car a clean, which for us is after every trip with 2 kids in the back nibbling on snacks. Now my drive is quite small, so I was able to reach the car very easily with this length, but if you have a long drive or if you can't park directly outside your home, you can always use an extension cord.
Now, three of the tools already mentioned in this review are absolutely perfect for car cleaning. In particular, I found that the soft dusting brush was great at cleaning the buttons on the steering wheel and dashboard, as well as the cup holders, seats, and lastly, the kids car seats in the back. The upholstery tool was great at cleaning the floor of the footwells as well as the floor of the boot, and the crevice tool allowed me to vacuum up the dirt that was trapped between the seats and the door (as well as down where the seatbelts disappear into the seats).
I found it easy to quickly swap out each tool as I went along with the machine running the whole time. It took me only 15 minutes to give the entire car a really good vacuum, which is also down to the amount of suction power the Hetty produces combined with these excellent attachments.
Handling
As I moved through different rooms, I tended to tug the Hetty behind me using the hose, which must be why Numatic has made it very tough and sturdy (they claim it is crush-proof). The wheels on the bottom feel smooth, and I barely felt any of the 7.5kg of weight as I moved around, with Hetty trundling behind me. Something that I noticed is that the Hetty has a rubber buffer ring around its circumference to prevent any damage to either the machine or your furniture or doorways as you pull it along (in a similar fashion to a bumper car), so I was confident that it wouldn't get damaged.
Hetty vs. Pet Hair
Now for a crucial piece of information that all pet owners will be interested in: the Hetty is not very effective at picking up stubborn pet hair from carpets. Indeed, I found that dog hair was particularly hard to remove. So, if you are a pet owner and you are concerned with this shortcoming of the Hetty, I would recommend the Harry.
Storage
The Hetty is not as bulky as you think (or at least as I thought prior to purchasing one). In fact, I found it easy to store in a number of different places in my home, which was something I was concerned about because we are very limited on space. Once the wand was removed, I was able to slot it into a wardrobe, under the stairs, and on top of a washing machine.
The extension wand is more difficult to store due to its length. I was able to find a nook behind our washing machine where it was hidden out of sight, but if push comes to shove and you are really short on room, you can disassemble and reassemble it each time, but this would end up being quite a chore.
Our Verdict
The Hetty is a solid model with loads of great attachments. From strong suction strength to versatility and great car cleaning, she has it all. If you are looking for a vacuum cleaner at a reasonable price with a slightly feminine twist, she is the girl for you.
However, this is not a high-end machine, and it does require a little elbow grease to get good results. The attachments really are well designed, and as long as you are able to swap between them as you move around your home, you'll be very pleased with the results.
Crucially, if you have mobility or strength issues, I would opt for another machine that is designed to be lightweight. Similarly, if you have really hairy pets that shed often, try another model.
That being said, there are areas where Hetty shines. In smaller houses, for families with small children, and even for those that need a great car cleaner, Hetty is an ideal choice. The overarching feeling that I am left with after reviewing the Hetty is that it will likely last for decades, which is exactly what I was looking for in a new vacuum cleaner for our home.
When I was testing out the Hetty in our car, my daughter came to the front door and shouted, "Are we going to keep her?" and I am happy to say that yes, we are.
Latest posts by James Cook
(see all)