A little disclosure: there are affiliate links on this page! That just means if you click on a link, find something you like and buy it, we'll make a little bit of money. Don't worry, you won't pay any extra and it doesn't impact our opinions.
The Henry Vacuum Range
Since its original launch in the 1980s, the Henry vacuum range has been a staple of homes and offices. But as the range grows, which one is best for you?
He's big, red and has a nice friendly smile which makes him one of the most popular vacuums in the UK. He first appeared way back in the 80s and despite all the new technologies we see remains one of the best-selling vacuums in the country.
Over the years we've seen his family grow rapidly. We've since been introduced to Hetty, Charles, George and James, among others. They specialise in all sorts of jobs whether it's clearing up troublesome pet hair or devouring spilled liquids.
But what lies behind the grin? What can each of these do and how do they differ? To find out we have to look at the entire Henry the vacuum range – to see how they all stack up.
Black Friday Deals We've Spotted
£119.99 for the Henry (down from £159.99)
£129.99 for the Hetty (down from £159.99)
£139.99 for the Henry Pet (down from £179.99)
£229.99 for the Henry Quick (down from £299.99)
Henry
Free Delivery
Henry HVR160
Key Features:
Power: 620 watts
Capacity: 6 litres
Cleaning range: 26.1m
Weight: 7.5kgs
Cost: Around £160
Pros:
Perfect for All-Round Cleaning
We earn a commission if you make a purchase, at no additional cost to you.
Free Delivery
Pros
Product longevity you wouldn't believe – the models released in the 80's are still going.
Low noise – around 72 Dbs. Not super-quiet but definitely fine to use if you have picky neighbours.
Great price point, less than £150 for the only vacuum cleaner you might ever buy.
Energy Efficient Class A as standard.
Cons
It isn't lightweight and isn't the most manoeuvrable if you have to carry it up and down stairs.
Bagged vacuum cleaner, meaning you need to replace the bag once in a while.
The suction class is C on the lower setting. Not great for your average cat owner.
We've all become familiar with the big smiling face of Henry. He's the popular vacuum cleaner designed to offer long-lasting, durable power for an affordable price. He is a great all-rounder, offering plenty of capacity, within a compact and durable package. Small wonder it's the vacuum of choice for both the domestic and commercial cleaning sectors. Although he may not be one of the most lightweight vacuum cleaners on the market and should not be considered a budget vacuum cleaner, this is a tough, reliable piece of equipment made to withstand plenty of punishment – look after Henry well and he'll be with you for years.
It has a useful hi/low feature which allows you to switch seamlessly between the more powerful 1,200w and a lower 600w mode. It's a great way to manage your electricity use. For most jobs, 600w will be more than enough power to get the job done, but occasionally, for really stubborn tasks, you might want to switch up to the more powerful 1,200w. This allows you to do just that. In the light of recent European legislation, though, Numatic have released a less powerful 620w model, but they've put in a huge effort to tune this up so despite the power drop you still get excellent performance – capable of meeting any job.
One of the great aspects of this is its allergy retention, which is great for those of us who start sneezing every time the dust gets agitated.
Henry is the stalwart of this range: tough, durable and easy to use. There may be lighter and sleeker models available, but it is by no means too cumbersome and its impressive storage capacity, means you'll have plenty of time before you need to change the bags.
Henry Xtra
Free Delivery
Henry Xtra HVX200
Key Features:
Power: 620 watts
Capacity: 9 litres
Cleaning range: 26.4m
Weight: 8kgs
Cost: Around £180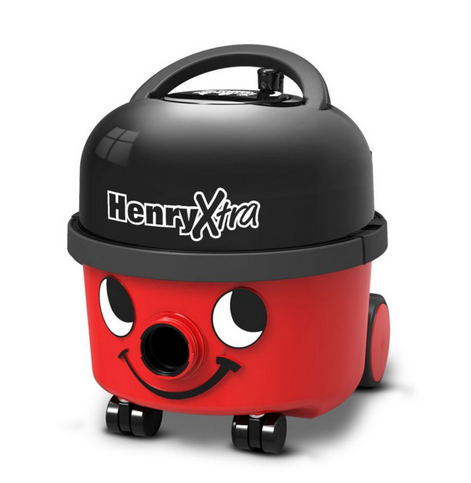 We earn a commission if you make a purchase, at no additional cost to you.
Pros
The extra length of the reach this model has makes it a great choice for commercial cleaning.
It's not nearly as heavy as you would think for all those extras. It isn't expensive, it doesn't make much noise.
It removes pet hair – dog and cat owners looking for a new vacuum listen up! This one will do the trick and leave no margin of error behind.
The cherry on top is that it is an energy class A. Plus the Airobrush and the extra attachment for hard floors.
Cons
It's not lightweight.
It doesn't come with the filters of the Micro.
It doesn't have that high setting option that comes with the original Henry.
As the name suggests, the Henry Xtra is just like the regular Henry but a little bit more. He comes with a host of different accessories and features which means he can cope with just about any job going.
A unique aero-brush is great if you have pets in the house. It provides an outstanding level of cleaning with carpets and is the perfect tool for cleaning up pet hairs, as well as those bits of pet food that don't quite stay in the bowl and other edibles such as cat grass. A hard floor brush means it can continue cleaning on hard floor surfaces while a 10m power cable provides extensive reach.
As with the other Henrys in this range it provides unbeatable suction power which will not deteriorate in the same way as other cyclone vacuum cleaners. Its robust shell gives it plenty of staying power, meaning it can go on giving you reliable service for years.
Henry Quick
Free Delivery
Henry Quick
Key Features:
Power: 25.2V
Capacity: 1 litre
Run Time: 70 min Low / 16 min High
Charge Time: 150 mins - 100%
Weight: 3.2kg
Cost: Around £300
We earn a commission if you make a purchase, at no additional cost to you.
Hetty
Free Delivery
Hetty HET160
Key Features:
Power: 620 watts
Capacity: 6 litres
Cleaning range: 26.1m
Weight: 7.5kgs
Cost: Around £160
Pros:
Perfect for All-Round Cleaning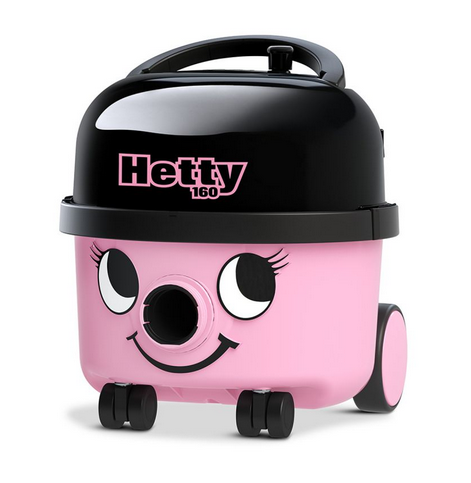 We earn a commission if you make a purchase, at no additional cost to you.
Free Delivery
Hetty Yellow
MyHenry.com are currently offering this special yellow edition Hetty for £30 off the regular price.
Buy Mine with Free Delivery
We earn a commission if you make a purchase, at no additional cost to you.
Pros
Smaller than Henry and therefore easier to store.
Less than 80 dBs which is fairly quiet.
Pink instead of the red/orange model. This could also be a con depending on your preferences.
Bag holds more than the vacuum has the capacity for which means you rarely burst a bag.
Cons
Not lightweight. Weighs the same as Henry even though she is smaller.
Only has one output and that is 620w, meaning it isn't as powerful as Henry on his high setting.
Like the Henry it is clunky and unruly. It does have great durability to make up for it.
Henry's little sister is Hetty. She comes with all the same features as Henry, but the introduction of Eco technology helps you to save the planet and your wallet at the same time. A smaller size means she's easier to store, but a 9-litre bag capacity, means there's plenty of dust storage room.
Hetty has 620w of power. However, the use of two twin-flow power motors means this has a huge amount of suction power and will lift even stubborn dirt. She also offers the ability to switch between higher and lower power, which helps keep your energy bills down. The only downside, from some peoples' perspective, is that these two motors make Hetty a little on the loud side, but recent models have addressed this with a lower noise output.
She's been well designed with a small profile and cylindrical shape which makes her easy to store when you're not using her. However, within that is plenty of power and space to store large amounts of dust and dirt. There is essentially no difference between the Hetty and Henry, other than her appearance.
James
Free Delivery
James JVP180
Key Features:
Power: 620 watts
Capacity: 8 litres
Cleaning range: 26.4m
Weight: 7kgs
Cost: Around £140
We earn a commission if you make a purchase, at no additional cost to you.
Pros
The storage is something you don't realise you need from a vacuum cleaner. When you finally get it, you wonder how you lived without it all these years.
It's a lightweight model by comparison to other Henry vacuum cleaners.
James has good capacity, even though it sacrifices a litre for storage space.
Cons
James still features the wind in cord of the days of old. It could be a pro to some.
You would expect him to be cheaper than a regular Henry. Does extra storage space make up the extra in cost?
It doesn't have that high setting option that comes with the original Henry.
There's always a frugal member of the family and James is it. Bright blue in colour he's efficient to run and offers a different approach to storage and attachments.
Some people prefer the ability to wind the cable in and James allows you to do that. He also has a caddy in which he can nicely store away and attachments. A plugged cable means it is pretty easy to replace the mains cable.
This is the perfect vacuum cleaner for small households. It's smaller, lighter and less expensive than the Henry, but it still has plenty of storage, with eight litres drum-space and provides enough power to handle even the most difficult and stubborn dust.
Harry
Free Delivery
Harry HHR200
Key Features:
Power: 1,060 watts
Capacity Dry: 15 litres
Capacity Wet: 9 litres
Cleaning range: 26.8m
Weight: 11kgs
Cost: Around £180
Pros:
Perfect for Reducing Pet Odour
We earn a commission if you make a purchase, at no additional cost to you.
Pros
The Harry has won Which? Best Buy awards for basically being brilliant. It's good enough at removing pet hair that they give it their stamp of approval.
It comes with that large 9L capacity dustbin, fantastic reach, and has multiple attachments included.
The MicroFresh Filter, and the Hair-O Brush go the extra mile to take care of pet hair. They bring the freshness back to your home using one product instead of many.
Cons
It isn't lightweight and is actually heavier than most other Henry Vacuums of the same size.
It is only a suction class C. When it comes to pet hair, an A will do better.
Only one of the included attachments is designed for cleaning up hair. The rest are normal Henry attachments. Only one of the included attachments is designed for cleaning up hair. The rest are normal Henry attachments.
Harry is a lot like his older brother Henry except he's been design specifically for pet lovers. So, if you have a few four-legged friends running around this could be for you.
He offers two useful features. The first is a dual purpose hairo-brush which is fantastic for scrubbing off stubborn pet hairs and other stains, the second is a carbon filter designed to combat unpleasant smells. The MicroFresh filter activated charcoal filter will minimise the bad smells your pets can create.
Add to that all the usual benefits of the Henry range such as 9 litre capacity, a sturdy frame and reliable, long-lasting performance and you have the perfect addition for any pet lover's home.
George
Free Delivery
George GVE370
Key Features:
Power: 1,060 watts
Capacity Dry: 15 litres
Capacity Wet: 9 litres
Cleaning range: 26.8m
Weight: 11kgs
Cost: Around £260
Pros:
Perfect for Pets, DIY & Emergency Cleaning
We earn a commission if you make a purchase, at no additional cost to you.
Pros
It can clean wet spills, dry dust, scrub carpets, and clean upholstery. Essentially it is a 4-in-1 carpet cleaner and vacuum.
It comes with 15L dry capacity and 9L wet.
Numerous attachments mean you have one vacuum for all cleaning types.
Cons
It's more than £200, which is expensive for a Henry.
It's a little heavy at 11 kgs.
Big and bulky, hard to store.
Haven't you always wanted a cleaner who could do pretty much everything? If so, George could be the man for you. Big green and friendly he's great in the dry happy cleaning up spills, or scrubbing away stubborn stains. There is nothing he can't handle.
He offers a combination of a highly efficient Twin-flo bypass vacuum motor and a Powerflo pump system which delivers professional cleaning standards anywhere and at any time. It draws much of its design from the Numatic Cleantec range of professional vacuum cleaners designed to deliver unbeatable professional results every single time.
In the dry it has a hefty storage capacity of 15 litres and a wide range of attachments means it can switch effortlessly between different tasks. It really is a vacuum which can rise to meet just about every challenge you can think of.
We have a more detailed review of the George Vacuum, should you require any further information.
Charles
Free Delivery
Charles CVC370
Key Features:
Power: 1,060 watts
Capacity Dry: 15 litres
Capacity Wet: 9 litres
Cleaning range: 26.8m
Weight: 11kgs
Cost: Around £180
Pros:
Perfect for DIY & Emergency Cleaning
We earn a commission if you make a purchase, at no additional cost to you.
Pros
1060w power with a suction of 7.8 feet, wet or dry action.
15 litres dry dust bin capacity, which is a huge amount of space. Wet, the Charles holds 9 litres. An easy-to-operate switch goes between the two.
Noise level is 70 dBs – quieter than both the Henry and the Hetty.
Lighter than the traditional Henry at 7.1 kg, with slightly more reach.
Cons
The cord is rewind not auto retractable.
This is a big vacuum cleaner, if you are short on storage space shop smaller.
You sacrifice the A Class Energy Efficiency rating for a quieter machine with bigger capacity, a higher price tag, and the ability to unblock your drains.
The big blue monster Charles offers high power and performance no matter what the situation and delivers outstanding power in both the wet and the dry. One minute you might be using him to vacuum up the dust and dirt from a carpet, the next you might be dealing with a blocked sink – it's all the same to him.
Charles is designed to shine in the wet – and this is indeed where it has the edge over the competition. Having a vacuum which can clean up spillages is a major bonus. If you've ever had a big spill in your home or even had a problem with the plumbing you know exactly how difficult it can be to clean it up. Not with a Charles in the house.
Every part of the machine is designed to be water-friendly and it has an impressive 9-litre storage capacity, so just attack the spillage and watch it disappear.
However, while it's designed for the wet, this also excels in the dry. An impressive 15 litre storage capacity when dry makes it an ideal option for professional cleaners, but it is also light at only 7.1kgs and will be easy to get around the home.
Two powerful 1200w twin-flow motors deliver an incredible amount of power which means almost nothing is beyond his capacity. A tough shell means he'll take everything daily use can throw at him and come back for more, but at the same time he has a surprisingly compact footprint, which makes it easy to move around and store. It comes with a wide range of fittings including a combination floor nozzle, hose and brush which means it can step up to deal with just about any job you throw at him.
Charles is a great multi-purpose vacuum, but his ability to suck up even big spills could well save you money. Water causes a huge amount of trouble in the home and big spillages or leaks could lead to damage which has your wallet screaming for mercy. By gobbling up those leaks, Charles could save you a small fortune.
Other Machines from Numatic
Pros:

Reduce Exposure to Allergens

Pros:

Four handy extra cleaning tools

Pros:

Remove Pet Hairs & Reduce Pet Odours
What else should I know about the Henry Vacuum Cleaner Range?
Before you commit to purchase one of everyone's favourite vacuum cleaners, let's have a look at what sorts of things you ought to know. We put together a buyer's guide to talk you through the different aspects of the range.
Sometimes, you need a machine that sucks up pet hair. Sometimes, you need a machine that can absorb even the smallest of particles from the air. Sometimes, you need a machine that's pink. Whatever you need, you will find it somewhere in the range. Let's talk how.
Henry Vacuum Range Buyer's Guide
What should you look for in? Read on to find out!
There are a variety of considerations to be made before you make your final choice from the Henry vacuum range. Things like colour, shape, and whether or not it can handle cleaning up after your dog are important!
Let's examine which other considerations you should make in more detail.
A Word on Price
The Henry vacuum cleaner range covers a number of price points. The more expensive models, like the George, do more things than the models that don't cost as much. Adversely, the cheapest Henry Vacuum is likely to be the original version. You would think that you paid less for less dustbin capacity (like what you get with the James, where you sacrifice dustbin space for storage) but this isn't the case.
What is a Class Rating?
There are different aspects of Henry vacuums that come with a class rating. Energy Efficiency is one, suction another. There may be more. As a general rule, Class A is the best you can buy. A Traditional Henry has an Energy Class A rating, for example.
Other Considerations to Make Before Buying a Henry Vacuum Cleaner
Detailed below are what you should look for – or what you should ask yourself – before you buy your Henry vacuum cleaner.
Dust Bin Capacity
The bigger the capacity of the vacuum cleaner, the more dust and dirt it can hold. With the likes of the Hetty Vacuum model, the capacity of the bag is higher than the capacity of the vacuum. This means you are unlikely to ever burst a bag by overfilling it. A good tip for those looking to save cash.
The Henry range of vacuum cleaners tend to vary in dustbin capacity. The traditional models have 9L, while the wet and dry models have a 9L wet capacity but a 15L dry dirt capacity.
Is it Bagless?
Rumour has it that your Henry will work without the bag in it, but that you might not get the suction you could expect otherwise. Since you can buy ten bags for around ten pounds there really is no reason to risk the loss of suction or damaging your Henry. To be fair, we reckon it would take a sledgehammer to do damage to a Henry vacuum Cleaner.
Noise Levels
These vacuums aren't all that noisy anymore. People did used to complain about the twin motors back in the early days, since the double-motor meant double-volume. The team at Numatic International have made specific advancements in the noise volume department. Coupled with energy efficiency regulations from the EU, this has made the physical noise output of the whole range at under 80 dB.
Suction
Suction is reflected in two ways with the Henry vacuum cleaner range. It is either a result of the maximum energy outage that the model in question has, or it is marked as a class rating. For example, the class rating of the Harry pet hair removing Henry is a Class C. If you want maximum suction, you have to go for bigger numbers. So where the Harry is a 620 w, the basic Henry has the option to go up to 1200 w. This will have more suction power.
There is an outsider in this pack, though. The underdog here is the Henry Xtra. Since the Xtra relies on the same cyclone technology as most 'normal' vacuum cleaners now use, it doesn't have the dual motors. No dual motors results in marginally less noise output – yet a different type of suction all together.
Corded or Cordless?​
Most of the Henry Range comes with a cord you wind back in. Some have retractable cords and some specialist models don't have cords at all. Most models use a wind in cord, with the wiring stored inside the lid of the Henry.
You do get cordless Henry models. Check out this one on Amazon. They are part of the range but not an important enough part of the range to get a new name. They are just known as Henry Cordless. He has his own little charging station and looks just like a normal Henry but comes with a little less capacity.
Upright or Floor?​
Alas, there is no choice. All of the Henry vacuum cleaners in the range are floor vacuums. That just means that they don't stand upright, and that they roll around on the floor on wheels. You drag the vacuum along behind you while you use the hose.
If you are desperately seeking an upright vacuum cleaner then have a look at our article regarding the best lightweight upright vacuum cleaners of the year, so far.
Power Settings
Most of these machines have only one or two controls. An off/on switch and the cord winder. They may have a high/low setting (like the traditional Henry) and they may have a wet/dry setting (like the George). Finally, the Xtra can switch between hard floors and carpets as a special feature.
Storage
Not only do you need to think about how you are going to store your new vacuum cleaner, you also need to worry about whether or not it comes with added storage. The James vacuum cleaner has a fantastically useful storage compartment where you can keep all the attachments that come with him. This saves so much trouble when it comes to finding parts quickly.
Hose Length & Reach
The hoses only give an extra metre or two in terms of extra reach. However, the cord winds out for up to 26 metres, which is the average length a Henry vacuum cleaner can stretch to. If you own a flat, the Henry will be able to clean the whole place without you having to unplug and move.
Energy Efficiency
While the traditional Henry has an A class energy efficiency rating, other models don't match it. The worst is actually the Harry, which has a C class energy efficiency rating. It is important because a higher consumption vacuum cleaner will use more, costing you more in power. They aren't as environmentally friendly either, so if being E-friendly is important to you the basic Henry is the better model.
Size & Shape
Everyone struggling with storage space needs to consider size limitations before they buy from the Henry vacuum cleaner range. The smaller models will work best for smaller homes – but come with less dust bin capacity. We recommend the Henry Micro for smaller homes. The largest of the Henry vacuums is the George, which is a 4-in-1… although the Charles comes close.
Colour & Style
The Henry range have tremendous amounts of colour to them – but only one (very distinctive) style. If it has that big happy face, if the nose is the vacuum hose, and if it perpetually, moronically, and frustratingly never stops grinning? It's a Henry.
George comes in blue or black, Charles in blue, Hetty in pink… besides the traditional red/orange colour of the regular Henry, you have a veritable colour wheel of choice. What you will never get rid of is the smile. That's why they are best kept hidden in cupboards.
Versatility
The Henry with the most versatility is probably the George. It cleans your curtains, cushions, carpets, hard floors, your car, your drains, and probably everything else in your life. Beyond that, the Henry vacuum cleaner range has a pet hair model, a wet/dry model, and come in a variety of shapes and sizes. The range is versatile within itself.
An additional versatility with the Henry range are the bags. You can use the same set of bags throughout the majority of their machines. The wet and dry, the pet hair, and the larger models all use a one-size-fits-all-capacities bag. It makes it easier to shop.
Durability & Reliability​
The Traditional Henry has a long established history of being a durable, tough vacuum cleaner at a fantastic price point. The whole range are some of the most long-lasting vacuum cleaners you will ever buy. They are mostly made from dense plastics. Again, they aren't the most recyclable range of vacuum cleaners, but they do last long enough that they make back their carbon footprint before they break..
Moving On
We have covered just about everything there is you need to know before you make your choice. The Henry vacuum cleaner range is extensive and iconic. There is a high chance that they will be the only thing to survive a nuclear explosion and still work.
When you buy one of these machines you are buying a product that will stand the test of time. It won't let you down. It will continue to run even when you can no longer do so. That's a special thing in a brand.
FAQ's about the Henry Vacuum Range
Have Questions about Henry, Hetty, Charles, George – or any other vacuums? We may already have the answer…
What's the best Henry  for my small home or outhouse?
When shopping for a small home you have less mess – but less storage space. For this we suggest the Henry Micro, which will do a great job while fitting snugly into small spaces.
What's a Numatic Henry?
It might sound like a complex term regarding suction or energy efficiency, Numatic International are the manufacturers of the Henry. Incidentally, although known as Henry Hoovers, they aren't Hoovers by brand.
In Britain the Hoover became synonymous with the word vacuum cleaner. Around about the same time as this was happening (the mid-80's) was when Henry vacuum cleaners were first making a rise. We will forever have the Henry as a result.
What's the best Henry for dog and cat hair?
The Harry is the best in the range for cleaning up pet hair. It comes with a special brush attachment meant to lift hair and an activated charcoal filter which will draw out dirt and neutralize foul smelling pet pongs.
Where do Henry Vacuums come from?
These vacuums were originally British made exclusively, but now they have manufacturing plants all over the world. Demand grew and the Henry crossed the sea. They are a thoroughly British vacuum cleaner.
Where Can I Buy Henry Vacuum Range Bags?
Most Henry vacuum cleaners use the same size of bag. You can buy a pack of ten for less than £20 by following this link. In a pinch, the older models of Henry can be used without any bags if you have to. Be aware that this might result in a loss of suction as a result.
Can a Henry vacuum cleaner unblock drains?
Yes, certain models are able to clean things like your drains, standing water, or any spillages in the kitchen or bathroom. The Charles and the George are both made to be wet and dry vacuum cleaners. While the George also cleans carpets and upholstery, the Charles is able to sook up spillage without exploding.
I have allergies. Do Henry have a vacuum cleaner I can use?
Henry have a vacuum cleaner for everyone! You need the Henry Micro. This nifty little number uses a MicroTex Filtration System to ensure that even the smallest particles are whipped out of the fibres of your flooring.
I want a Henry vacuum that does everything… is there one?
For that you need the Henry Xtra. This model deals with pesky pet hair, has a brush for carpeting and a hard floor brush, has a 9L capacity with an energy Class of A, comes with storage… the list goes on, and on, and on.
Latest posts by James Cook
(see all)